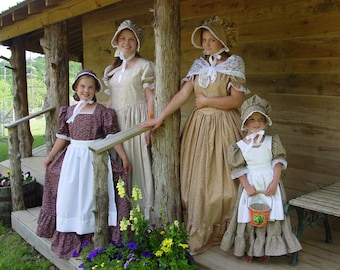 It's not to early to start thinking about your costume for Fort Tejon (coming up soon - May 8th and 9th!) You don't have to wear a special costume (just make sure your clothes are comfortable.) But, it is more fun if you get into the 1850's spirit and wear old-fashioned clothes.
For boys: roomy comfortable shirts, buckled leather belts, blue pants (not denim), felted wool or straw hats.
For girls: ankle length skirts, blouses (white, blue, brown, green, or red are best), shawl or apron, bonnet.
Today's homework:
1. Math Miss W: Chapter 8 practice test.
Mr. Spaulding: p. 611-612.
2. Spelling p. 124.
3. Read for half an hour.
4. Get parent initials.